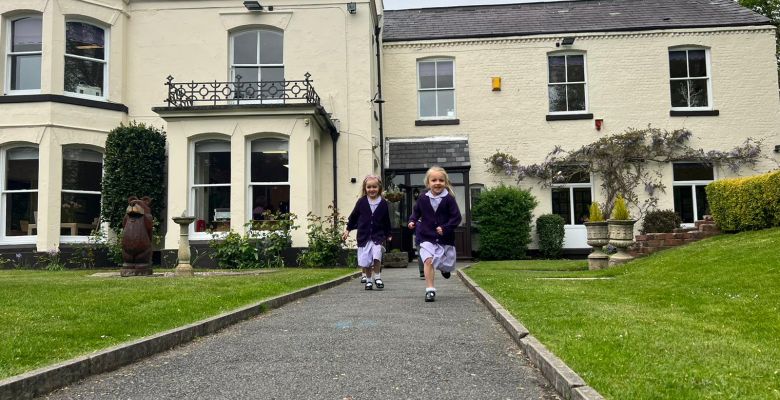 Introduction
Since its opening in 2000, our Nursery class has allowed children to begin their Forest journey from the age of two years old in a warm, safe and stimulating environment. Approximately 16 years ago, Mrs Wardle joined the school and was tasked with creating the Pre-Prep Department, where both Nursery and Kindergarten worked in closer proximity to each other; sharing resources, learning opportunities and environments. This proved a hugely successful model and has made the department what it is today; pupils being given the very best foundations to their learning. I started off my Forest career in Kindergarten and I still love my afternoons in the reading corner or participating in circle time. Our 'Happy Friday' sessions have become something of a mainstay since evolving during Lockdown #2!
Like any good model, we are continually striving to develop and make adjustments that will have a direct and positive impact on improving our provision. Since August 2021, Mrs Wardle and I have been planning the redevelopment of our Pre-Prep Department and with significant investment from Bellevue we are now able, and very excited, to share our plans with you.
The New Provision
From September 2022, the Nursery and Kindergarten will become two stand-alone classes, meaning the end to what we refer to as our 'Pre-Prep Department'. This will allow us to develop the individual learning environments, more specifically catered to the age group they fall into, most particularly our Nursery class.
A New Nursery Building
We are incredibly excited to reveal that our new Nursery will be based in the current Year 2 building. Over the summer, the builders will be moving in to transform the block into a new stimulating environment for our 2-3 year olds. This will include purpose-built toilet facilities specific to their age group; allowing a clear 3-step process for nappy changing, potty training and low-level toilets. The building will accommodate areas for messy play, quiet time and free-standing, moveable furniture. Outside of the classroom, there will be a new astroturfed playground which has a canopy covering the majority of the area to allow all-weather external activities.
Further details will be shared before the end of term.
The Reasons for Change
Over recent years, due to the nature of their curriculum and classroom ethos, the two classes have worked increasingly separately. Since the change to our wraparound procedures this year, we have seen a significant increase in Nursery admissions and we are excited to welcome our largest cohort on record this September.
In order to allow both year groups to develop fully, they need to be in the correct learning environment. We feel that our Nursery children need to be in a more relaxed and age-appropriate surrounding, where activities can be more free-flow, resources can be more age specific and routines can be carefully and very gently fostered. For those in the Nursery who have a summer birthday, they are only just two years of age when they join us each September, this new routine will benefit them greatly. Nursery will continue to be an integral part of school life and will still join in with whole school activities, specialist teacher lessons, themed days and assemblies.
With Kindergarten, we always see a real shift in their maturity and engagement as the year progresses. During the spring and summer terms, they often start to work on Reception-ready material. Having the class in a more individualised environment will allow us to develop this further. Additionally, they will be able to join in and work more closely with the Reception class, building those learning goals even further, for example class visits and trips.
Whilst the children will be in stand alone classes, they will still mix together during certain times of the day. At some play-times and at lunchtime the children will have opportunities to mix and learn from each other.
Staffing Structure from September 2022
Mrs Wardle will continue to lead the entire Early Years Department (Reception, Kindergarten and Nursery) at Forest and will also continue to be our Kindergarten Teacher, alongside Mrs Thomson. Both teachers will be very ably assisted by Miss Saez. As previously explained, Mr Bullock and Mrs Howland will be based full-time in our Reception class.
The development of our Nursery provision also allows us to invest in further staffing developments, whilst at the same time keep our very experienced team. Both Mrs Dulson and Mrs Carty will remain in the Nursery class in their new roles as 'Nursery Practitioners'. Their key focus will continue to be on the delivery of the activities, building on the pupils' self-care and overall Early Years Curriculum. Both Practitioners will continue to liaise closely with parents on a daily basis.
In addition, we will also welcome a new Nursery Manager to Forest from September. I'm delighted to inform you that Miss Hayley Bardsley will be returning to take on this new position. Miss Bardsley is a talented and distinguished Level 6 Practitioner, BA (Hons) in Education, with extensive knowledge of Early Years Education. She previously worked at Forest for many years alongside Mrs Wardle in our Kindergarten classroom and also with myself in Year 5. This new role will allow the Nursery to continue to develop in an exciting manner that includes various methods of assessment and communications with parents via online tools. Miss Bardsley will be responsible for the overall management and running of the setting and will work very closely with Mrs Wardle. Miss Bardsley will also be present at the 'Stay and Play' event on Friday, 6th May.
I'm sure you will all join me in welcoming Miss Bardsley back to Forest. She is very excited to be taking on this new venture alongside the experienced and talented Mrs Dulson and Mrs Carty.
A New Structure for Lower School (Kindergarten - Year 2)
From September, Kindergarten will be based in the current Nursery room and our Reception classroom will be located in the current Kindergarten classroom. Having the two classes next door to each other will allow our Early Years to work together closely and utilise the current outdoor area that is already in place.
Our Key Stage One classes will be on the left hand side as you enter the Lower School Building. Year 1 will move to the current Reception classroom, allowing them a much larger outdoor area than we can currently accommodate. Year 2 will then move into the current Year 1 classroom. Having the two KS1 classes next door to each other is something I have been very keen to create. This will allow for further close working partnerships between pupils and staff; sharing expertise, resources and tools whilst promoting clear progression and transition. This change, specifically the physical changes in classrooms, will be very carefully integrated into, and addressed as part of, the transition events with the children during the summer term.
Parents' Forum and Further Information
A reminder that our Parents' Forum is due to take place in the school hall on Monday, 23rd May at 6:30 p.m, where we can further discuss these exciting changes. In the meantime, please do not hesitate to contact myself or Mrs Wardle should you have any further questions.
Final words...
As a staff, and strongly supported by Bellevue Education, we are very much looking forward to the restructure and development of Nursery and Lower School. Our main aim is to invest in and develop the school to ensure our children have the very best of learning experiences. Children's positive mindset and core learning values are always set at a very early age, which Forest is truly committed to supporting and enriching.
Graeme Booth (May 2022)